Let us review your credit reports for free
We can usually find errors and mistakes that may effect your credit standing. We can get these errors removed at no out of pocket charge to you.
We can send dispute letters on your behalf for free
With our 3 for Free Program, we will send up to 3 dispute letters on your behalf to the credit bureaus to make your credit report accurate. Credit repair companies typically want you to pay fees on a monthly basis to them, month after month. Not here. We do not charge for sending dispute letters.
We will write legally viable disputes
to dispute negative items appearing on your credit report that we believe to be false or subject to a viable challenge. We have litigated with the credit bureaus and many lenders for years. We know how they review and respond to dispute letters. We also know that they have no obligation to respond to frivolous dispute letters such as those that are frequently written or outsourced by credit repair companies.
We send dispute letters on your behalf
Unlike credit repair companies that operate in the shadows, we want the credit bureaus to know that we are representing you. We want them to know that you are represented by a competent and able credit repair law firm with whom they have dealt with in the past.
We get paid only if we sue and are successful for you
We make money when we file a lawsuit on your behalf and are successful. If we can fix your credit with just dispute letters, then we will have fixed your credit report for free. There is never any charge for our dispute letters. If we have to file a lawsuit to fix your credit report, we collect our fees from what we are able to collect in settlements on your behalf. You never reach into your pocket to pay us.
Common Ways


Your Credit Report Gets Damaged
Some of the most common ways that your credit report can get damaged without you knowing about it are: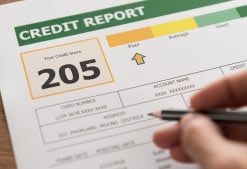 Identity
Theft
Since 2012, this has been the fastest growing crime in America. Its still growing. Your identity can get stolen in several ways including data breaches from large retailers that have your credit applications on file or even from data breaches of the credit bureaus. Today, no one is really safe. In our experience, about 40% of all identity theft involves a family member or friend taking someone's identity. We can help you get through this.
Mixed
Files
Eric Black from Detroit Michigan might have information on his credit report from another Eric Black that lives in the same town. Fathers and sons that are sr. and jr. have mixed files, especially if they live in the same home. Certain ethnicities where first and last name combinations are popular are also subject to mixed files.
Incorrect
Payment Status
Did you pay off a debt that had been previously charged off? Did the creditor report the payment or is it still reported as a charge off on your credit report? These 2 very different kinds of reporting make a huge difference in how a creditor sees you and your responsibility towards your debts.
Lender
Errors
Do you have a credit card and a mortgage through the same lender? Did they credit your credit card payment against your mortgage and report you as short and late?
Accounts and collection items discharged in bankruptcy still reporting as late?
We often see people who are trying to get a fresh start after bankruptcy have their dreams deferred because of items that should have been reported as discharged. Debt collectors are notorious for reporting collection items as still current, hoping that you will not know better and simply pay them off.
How the Credit Repair Process Works?
its as simple as 1…2…3
Let us review your credit reports for free. If there are errors or mistakes on your credit reports, we will find them. There are probably things on your credit report that you don't know that are negatively affecting your credit. We know where to look and what to look for.
We will write up to 3 dispute letters for you, disputing the incorrectly negative things on your credit report. The credit bureaus have 5 days to notify the creditor of our dispute. Together, they have 30 days within which to review and respond to our dispute letters.
If we are able to fix your credit with just our dispute letters, then we are happy to have been of service to you. If we have to file a lawsuit on your behalf, then our services will not cost you anything out of pocket.
How Is Your FICO Credit Score Determined?
FICO used to stand for the Fair Isaac and Company. They are math wizards that assign a numerical value to your credit report that predicts the changes of you defaulting on your debt. The higher your numerical value, the lesser chance that you present. FICO scores range from 350-850 although we have never seen anyone that hit either the top or bottom score.
35% of your score is based on timely made payments. Each time you timely make a payment to a credit, it increases your credit score.

15% of your credit is based on the age of your individual accounts. Older accounts score higher.

30% of your credit score is comprised of the percentage of your available credit that you use. They call his "utilization." How much of your available credit have you used at the time the score is calculated? A rule of thumb is to keep your credit card usage under 30%.

10% of your credit is based on your credit mix. Do you have different kinds of credit such as revolving credit (credit cards), closed ended credit (car loans), a mortgage loan. The bigger the mix, the better.

10% is based on new credit that you have obtained recently.
As you can see, to a great extent, your credit is based on your decision making. What the score does not account for are the things that hit us in real life such as a job loss, getting sick or having things that are outside of our control that affect our credit such as a mixed credit file.